I moved to Puerto Vallarta during Holy Week. The town was packed, the hotels were full, and the beaches were crammed. It was my first time in Puerto Vallarta town, and I was a bit worried. Would I be elbow-to-elbow, battling for restaurant reservations and beach space and pool loungers with spring breakers and Canadian retirees for the rest of my time here?
The answer came just over a month later: No. (hallelujah!)
A few busy but short weeks after Easter, restaurants were shutting down for seasonal renovations and hotels prices had been slashed to less than one-quarter of the costs during Holy Week. The beaches emptied, the pool loungers freed up, and the restaurants that stayed open offered up the best seats in the house to walk-ins.
Puerto Vallarta low season officially arrived.
This has been my first experience living in a very seasonal place, and I really wasn't prepared for the disparity in busy-ness. During high season (from around October to after Easter), Puerto Vallarta is hustling and bustling and vibrant. During low season (from after Easter to around October) or "rainy season", Puerto Vallarta almost entirely empties out of snowbirds and international tourists (though the summer months see a rise in domestic tourists, especially in July).
This downslide of tourist numbers coincides with a climb in temperature, humidity, and of course: rainfall.
graph from Holiday-Weather.com
From May to September/October, low slow rainy season is here in Vallarta.
While most international tourists time their visits to Puerto Vallarta during high season (peak months are November through March), coming to Puerto Vallarta in low season has its own particular set of advantages, especially in regards to price!
Debating a visit to Vallarta in low season? Here's 9 positives and 5 negatives of a rainy season Puerto Vallarta visit to keep in mind!
1. Puerto Vallarta's rainy season weather isn't THAT bad

rainy season? what rain?
I swear, the weather during rainy season in Puerto Vallarta really isn't awful. Most days, the rain doesn't start until the late afternoons or evenings, so the main consideration is the intense heat.
To be honest, I find the hot weather PERFECT for lazy days in the pool or at the beach. Plan ahead and bring a floatie (we got these Kelsyus ones based on the recommendation of our neighbor who's been using hers for years, and they are SO WORTH the less-than-$50 price tag, and they also fold up nice and easy for packing) so you can spend your time literally in the water for the utmost comfort.
Before 9am, the temperature is totally fine for going on long walks (like I do), but then the temperature and humidity ramps up and doesn't call down until around sunset.
If you're a bit nervous about how you'll handle the Puerto Vallarta low season heat, May tends to be less hot and also less rainy than the rest of the low season.
2. Lots of schedule flexibility

we went with the flow and ended up for a sunset drink in the Marina's lighthouse bar: it was empty
During Puerto Vallarta high season, you need to book activities as far in advance as possible, especially if you're working on a tight time frame. There's tons of people trying to take tours and do activities. Most boat excursions, organized day trips, and town tours get booked to capacity – often days or weeks in advance.
During rainy season, however, the number of international tourists plummets, and everybody is wide open. You'll have your pick of days and times.
3. Top pick of restaurant options

dining at Casa Isabel during low season, with one of the best seats in the house
During high season in Puerto Vallarta, you've got to remember to call for a popular restaurant reservation days (or sometimes even weeks!) in advance, and you likely won't get seated at your top choice for a table.
But in Puerto Vallarta's low season, even usually busy restaurants will be easy to get a reservation at. On top of that, you can easily score the best seat in the house.
You probably don't even need a reservation pretty much anywhere, you'll be able to walk right in with no wait.
One caveat: many Puerto Vallarta restaurants close for at least part of low season, so you'll want to double-check that whoever you want to go is still open.
4. Savings on activities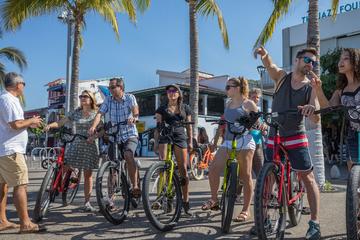 Bikes and Bites: Taco Bicycle Tour in Puerto Vallarta
Not only is it easy to get your choice of activity during Puerto Vallarta's low season, you'll save big! Many tour operators even run major specials (like Vallarta Adventure's 3 for the price of 2 tours) and host summer discounts.
There are two contested strategies for scoring the best deals on tours and activities:
Arrive and negotiate in person (best if you've got extra time and flexibility)
Email tour operators in advance and ask for a low season discount, especially if you're coming with a group or doing multiple activities with the same company
5. Low prices on accommodation
Prices drop dramatically during low season in Puerto Vallarta. This is the best time to score a great deal on your hotels, so if you're looking for an intense bargain or are on a tight budget, rainy season is the time to plan for.
Even if you're not looking for a discount, you've got a much better possibility to get a complimentary upgrade. It definitely never hurts to ask, but in rainy season you're especially likely to hear "YES!"
6. Fewer international tourists and expats
Puerto Vallarta has a reputation for being a Canadian/American retiree haven, which isn't untrue (I've described it to my father as a sort of neverending spring break for the sixty-somethings). I've found this to be a blessing in living here (as I appreciate the wisdom that our retired folks have to share), but I'll acknowledge it's not always a totally desirable vibe for a vacation destination for younger people.
Puerto Vallarta also attracts big groups of drunken bachelor and bachelorette parties, and sometimes spring breakers, though less than Cabo or Cancun.
During low season, though, many retirees head back to their hometowns, and the drunken international tourist groups really don't show up. I don't blame them: I think summer is the best time to enjoy the US/Canada, too!
At the same time, summer is a hot season of travel for Mexican tourists, so the tourists you do come across will likely consist of groups and families from Mexico itself.
7. It all goes green

everywhere gets a pop of green… even my garden (that's some delicious homegrown mint in the mug)!
During dry season, the hills and vegetation of Puerto Vallarta can get quite, well, DRY.
The rains of low season bring the plants and trees and flowers and hillsides alive, and Puerto Vallarta blossoms into a lush, green paradise.
Rainy season in Puerto Vallarta brings the most beautiful scenery and flowers to enjoy.
8. Enjoy the storms

What I do when it rains: grab my Kindle, a chocolate, a cup of dessert tea, and my dog for some stormwatching
The storms in Puerto Vallarta are intense, with the full works: fierce thunder, brilliant lightning, pouring rain.
If you're lucky enough to have a seaview room, it's an event in itself to watch the storms and lightning over the ocean. I don't personally have a sea-view (I wish!), but we do have a balcony, and I love to sit on it and watch the rain come down, whether it's coinciding with a thunderstorm or not.
9. Find your own private beach

whether it's sunny or gloomy (for a day to stay as overcast as on the right is RARE), the beaches are empty
The lower number of international tourists and higher heat index (maybe along with the threat of afternoon/evening storms) lead to much emptier beaches in Puerto Vallarta.
Especially in the mornings (around 8am, when it's still not an oven outside), it's easy to score a stretch of beach to yourself.
---
So, we've acknowledged that visiting during Puerto Vallarta's rainy season has its definite upsides. But of course, it has to have a few downsides as well, otherwise it'd be just as full during rainy season as during high season! Here's what keeps visitors away during low season:
1. HIGH temperatures
average temperature graph from Holiday-Weather.com
It might not look like much on a graph, but that leap from an average temperature of 70 to an average temperature over 80 certainly feels significant.
Temperatures stay high in Puerto Vallarta, with averages around 81 and daily highs at 91 across the entire rainy season. You have an hour or so of cool weather in the morning, right as the sun rises and before the humidity settles in, and then it's like living in an oven.
2. HIGH humidity
A friend recently described this type of weather as "cheesecake", and I'd have to agree. Walking in Puerto Vallarta during midday during rainy season feels like wallowing through cheesecake.
It is humid, sticky, sweaty, and heavy.
3. Fewer flights
To match the lower demand for flights during rainy season, there are fewer flights running to Puerto Vallarta, with many airlines cutting down flights or stopping certain departures entirely during this period. You can occasionally catch a bargain, but in general, flights tend to be pricier during this time because fewer are available (and you might need to make a layover that you normally wouldn't).
4. Closures
Again, matching decreased demand and fewer customers, some restaurants and stores close, and some activities cease running or slow down offerings, especially during the lowest of low season. Many of the best markets stop running.
5. Rain

sometimes, days look like this
Rain is pretty much a given at some point during most days of rainy season (hence the name!). At the same time, while the forecast can look dire, this really ends up being minor. During May and June, I barely noticed the sporadic rain, which always came at night. As the rains ramp up, they'll still mainly occur at night and occasionally in the afternoon, barely impacting plans.
---
Pin it for Later: Reasons to Visit Puerto Vallarta During Rainy Season
---
Do you plan your visits for high season or low season? Why?